Working on the shop system for Galaxy Girls wasn't to easy. But now it can save and load all collected coins. Also bought updates for the ship load correctly. At this point the basic shot and the homing missles are fully upgradable. Also the design is kinda complete too.
The problems i encountered
Saving and Loading that high amount of data in a secure way was pretty tricky to handle, because there have been so many things to consider. Since there have been to many datas i needed to be saved and/or loaded i used a binary formatting system, which just writes one savefile. Doing so will also speed up the loading and saving process. This way i made the decision to make the save file more secure. Playerprefs would just take to much time in load or save. So using them, havn't been an option.
Screenshots & Animated Gifs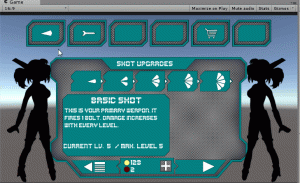 Animated Gif (~2MB)