Infect the world in this incremental idle game. The game is still WIP and will be free to play on Android. The name of the game might change later on.
Story & Idea:
You work in a little lab and breed species in petri dish.
★ Upgrade petri dish size, breed rate and so on.
★ Sell species once you earned some, to make money.
★ Manage your earnings.
★ Discover new species.
★ Upgrade your Lab.
★ Use Booster for faster progress.
★ Infect the world reduce the mankind to zero.
★ And many more…
Ideas for possible game names:
★ Infected
★ Infector
★ World Infector
★ Zombie Idle
Project Info's / Change Log:
05 January 2017 – Project started (Concepting)
06 January 2017 – 2D GUI Layout & first species created
08 January 2017 – Basic Species System almost completed in Unity
09 January 2017 – First Upgrade Elements started
10 January 2017 – Sitting over exel tables to figure formulas
First Screenshots: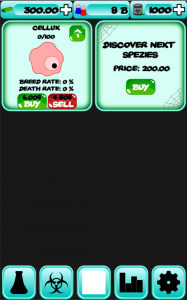 Other Media: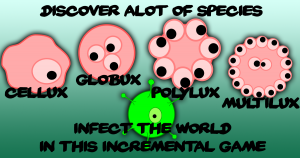 Release Date:
Early 2017.
Demo / Download:
Not yet available!!!
Feedback:
I'm always happy about constructive feedback. Feel free to use my Contact Page for this.
Summary