Level Manager is …
a Level Selector which creates buttons dynamicly created from a prefab to load your game levels. It makes use of the new Unity UI Canvas System.
There is a sample scene and 2 loadable levels already setup to test it out.
a Level Unlocker to unlock new levels, when saved the next to be unlocked.
It uses PlayerPrefs to save scores and the next level to be unlocked.
a Level Saver since it provides a dynamic save system for score, and levels to be unlocked
You are able to choose any kind of layout group in this level manager. So you can use the Horizontal Layout Group, the Vertical Layout Group and as seen in the screenshot below, the Grid Layout Group.
All code is written in C#.
Features:
★ Easy to setup
★ works in 4.6+ (new UI)
★ coded to work in 5.3 (SceneManager)
★ integrated star system
★ integrated dynamic save & load system
★ Free 9-Sliced PSD for Panels and Backgrounds
Setup Tutorials:
This tutorials are mostly requests by purchaser of Level Manager.
Planned Content:
Currently i'm working on a world integration, so levels and worlds can work together. The downside would be, all your previous work and save states would be obsolete! Also i try to make the setup easier than it currently is and i might implement levelnames to show/ hide and Images and different backgrounds, as those have been requested already.
Screenshots of Level Manager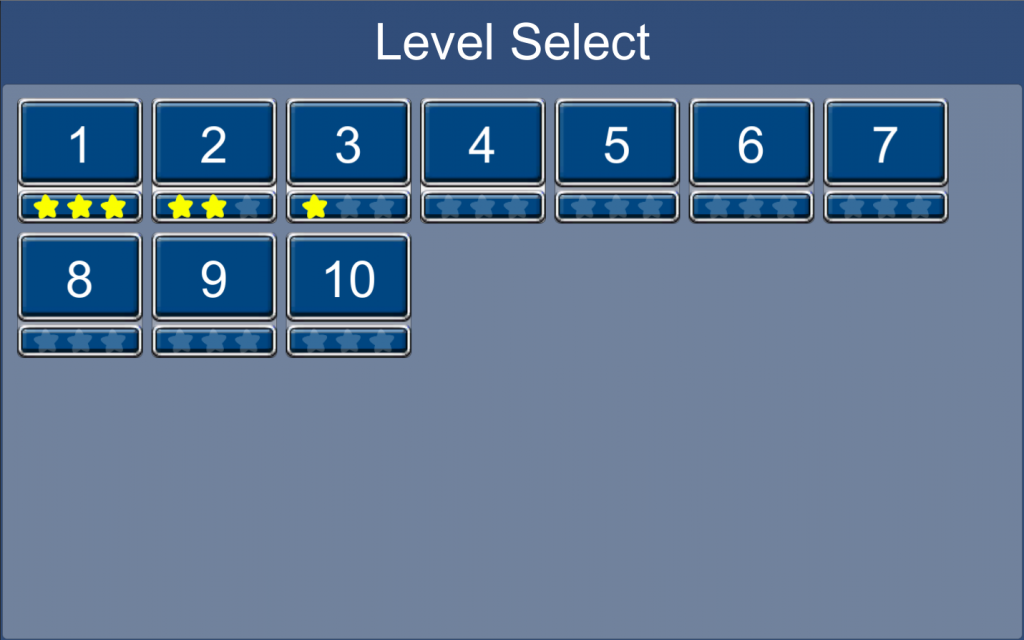 Download Level Manager